Film and soft plastic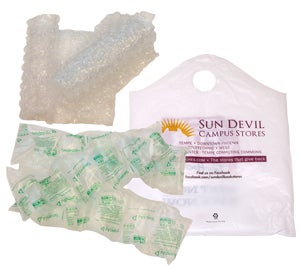 Any clean and dry soft plastic of any number or color. If it stretches before it tears it can be recycled in the soft plastic bins.
Examples include:
Air pillows.
Bread bags.
Bubble wrap.
Case wrap.
Paper product wrap.
Produce bag.
Retail bag.
Shrink wrap.
Snack bag.
How to recycle:
To recycle, simply place the soft plastic in the soft plastic bin.
Soft plastic bins can be found at the following locations:
Tempe campus: Wrigley Hall in the breezeway on the second floor.
Polytechnic campus: Academic Center in the second-floor lobby.
Not accepted: Please do not place soft plastic in the Blue Bin as it can damage the machines used to sort commingled recyclables.