Blue Bin
Use the Blue Bin for all your commingled recycling.
Deskside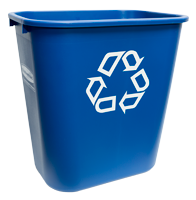 The deskside blue bin is a 7-gallon bin used for recycling in small or individual areas such as cubicles, office rooms or small meeting rooms.
Community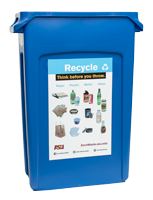 The community blue bin (Slim Jim) is a 23-gallon bin used for recycling in common areas. Slim Jims are perfect for hallways, shared office space, classrooms, kitchens, copy rooms, large conference rooms and other public spaces.
96-gallon Toter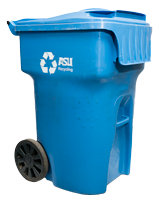 The big blue bin is a 96-gallon bin used for cleanouts or department moves.
Hamper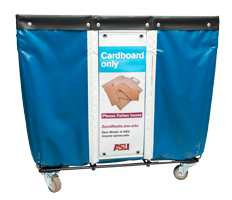 The hamper is used to collect large amounts of cardboard and Styrofoam®. Hampers are found in specific centralized locations in each building. Please flatten cardboard before placing in the bin.
How to get a bin:
Students: Students that live on campus and need a bin for their residence hall room must submit a Facilities Management Maintenance request. 
Employees: If your office or department is missing a recycling bin, would like a bin for cleanout or other special occasion, or would like any other recycling service submit a request.
Events: For event bins fill out an event request form.