Blue Bag
The Blue Bag program complements the university's widespread blue bin commingled recycling program. The following items are blue-bag friendly:
Batteries - dry cell, non-rechargeable.
Candy wrappers.
Chip bags.
Coffee pods, one-time use.
Energy bar wrappers.
Small eWaste such as calculators and MP3 players.
Small toner cartridges.
Spent pens and markers.
Used plastic gift cards.
Water filters.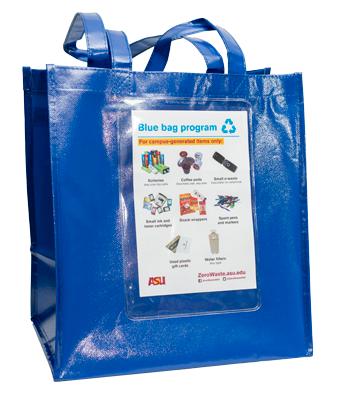 How to recycle:
Blue bags are available free of charge to offices and departments on all ASU campuses. Request a blue bag for your kitchen, office suite or other common area.  
We currently have over 600 blue bags in service on Downtown Phoenix, Polytechnic, Tempe and West Valley campuses.
Read more about the Blue Bag program on ASU News: