Compost
Food waste and compostable paper — such as napkins, coffee filters, and wooden chopsticks — make up about 45% of ASU's landfill. The ASU Compost Program collects food waste in office kitchenettes, break rooms and residential kitchenettes associated with individual's meals, small gatherings and activities living on campus.
See what can be composted at ASU.
The program criteria, interactive training, weekly service and smell-proof bins have been re-designed from top-to-bottom to enhance the user experience and make it even easier for Sun Devils to practice sustainability every day.
Office composting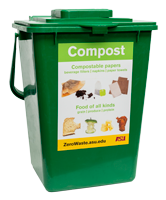 Any office on the Downtown Phoenix, Polytechnic, Tempe and West Valley campuses may request the Office Compost Program under the following criteria:
The space should service about 6–7 people.
The space should be an office — no public and unmonitored areas.
The space is accessible — not locked — by Zero Waste staff between 8 a.m. and 5 p.m. for servicing.
The space and bin has an individual able to serve as the designated point of contact.
The program adoption is approved by the appropriate office supervisor.
Request the Office Compost Program.
Residential composting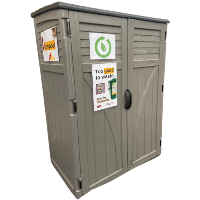 Request a Residential Compost bin.
Notify me when compost is available in my residence hall. 
Learn more about the compost program's history: