Welcome to ASU Sun Devil Card Services
Students, faculty and staff at Arizona State University now have choices! Choose between the Pitchfork ID MasterCard® Check Card complete with Sun Devil Checking exclusively from MidFirst Bank1, or the basic Sun Card. The Pitchfork Card is an all-in-one student ID, MasterCard® check card and building access card that you receive when you open an official Sun Devil Checking account. The Pitchfork Card ID...it's everything you need in ONE CARD!
First time freshman and transfer students who will begin at ASU in Fall 2013, may submit their photo online for use on their official ID. Learn more
ASU ID. Follow Us On...
What are the differences between the Pitchfork Card
and the basic Sun card?

Card Uses
Pitchfork ID
MasterCard® Check Card
Basic
Sun Card
Official ASU Student ID
X
X
Access to secure buildings
X
X
Access to meal plans**
X
X
Access to Maroon & Gold (M&G) Dollars**
X
X
Access to Sun Devil Fitness Complexes
X
X
Access to academic advising
X
X
Access for exam identification
X
X
Access to library and check out
X
X
Access for ASU Athletic events
X
X
Accepted at MasterCard® location worldwide
X
Pay for campus health services
X
Pay for campus parking services
X
Pay for Sun Devil Campus Stores items
X
FREE checking account for faculty and staff, and Sun Devil Checking exclusively for students
X
FREE ATMs nationwide (including MidFirst ASU ATMs on campus)
X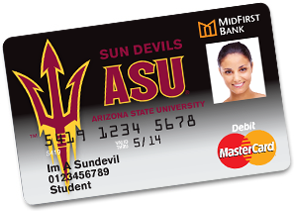 Pitchfork Card
LEARN MORE: Students | Employees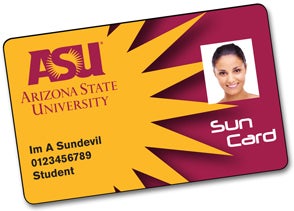 Basic Sun Card
Learn More
*If you need to replace your Pitchfork Card or basic Sun Card, a $25 fee will apply. View rules and regulations for obtaining a replacement card.
**Meal Plans and Maroon & Gold (M&G) Dollars are administered by Sun Devil Dining. Call 480.727.DINE (3463)

1Member FDIC