ASU names Anjali B. Halabe as new Financial Services VP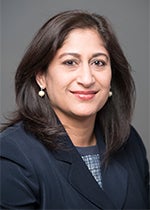 Anjali B. Halabe has been named Arizona State University's vice president for financial services and deputy treasurer. Halabe will assume her role in early January 2023 and report to Morgan R. Olsen, ASU executive vice president, treasurer and chief financial officer. Halabe will oversee the university's accounting, debt issuance and management, student business services and investment management functions, among other duties.
 
"Anjali's deep higher education finance experience will be a great asset as we continue to build the ASU enterprise for new challenges," Olsen said. "Our Business and Finance leadership team is thrilled that Anjali is joining us to lead ASU Financial Services in support of ASU's charter."
 
"We welcome Anjali Halabe to the ASU community and look forward to working together to move the university forward," said ASU President Michael M. Crow. "Anjali's experience in helping to direct our university financial functions will advance the ASU enterprise, advancing our commitment to service and supporting the success of our Sun Devil students, faculty and staff."
 
Halabe comes to ASU from West Virginia University, where she has served as senior associate vice president for finance. During her 22-year tenure at WVU, she was the treasurer of the WVU Research and WVU Innovation Corporations, separate legal entities that serve the university. Halabe directed and managed all financial functions, including operating and capital budgeting, for WVU, including all regional university campuses. Halabe supported the WVU Board of Governors and the board's audit, finance, facilities and strategic initiatives committees.
 
"I am excited and honored to be selected to serve in this position at ASU," Halabe said. "ASU's reputation as the New American University and its inclusive and innovative culture are impressive. I look forward to working with Dr. Olsen and the excellent Business and Finance team to support the ASU community across a broad range of financial services and advance ASU's mission and impact through the effective stewardship of its financial resources."
 
Halabe holds a Bachelor of Commerce degree from the University of Bombay and a Master of Business Administration degree from the University of Massachusetts. She also earned a Master of Professional Accountancy degree from West Virginia University. Halabe is a Certified Public Accountant and a Chartered Global Management Accountant.
 
Before she served at WVU, Halabe began her professional career with One Valley Bank, Inc. in the early 1990s, closing her eight-year tenure there as a senior accounting and investment officer.