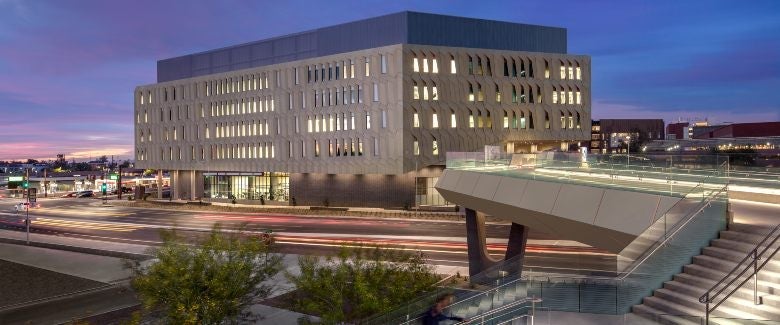 Two of Arizona State University's newest developments — the Rob and Melani Walton Center for Planetary Health and the Media and Immersive eXperience Center — received Engineering News-Record Southwest Best Projects award selections.
ASU swept the Higher Education and Research category with the eco-conscious Walton Center earning Best Project and the cutting-edge MIX Center winning the Award of Merit.
These latest projects exemplify the university's goal to create innovative and sustainable built environments.
Forefront of sustainability
Opened in spring 2022, the Walton Center incorporates several sustainability features, including: 
Atrium filled with plants and a canal that recycles water using natural methods.
Glass-fiber reinforced concrete panels that absorb heat.
Mechanical tree to capture carbon emissions.
ASU partnered with McCarthy Building Co., Architekton and Grimshaw to make the Walton Center a high-performance research facility that fosters interdisciplinary approaches to food, water and energy sustainability. The center now houses:
Hollywood tech in Mesa
The MIX Center is a joint project between the City of Mesa and ASU that houses Herberger Institute of Design and the Arts academic programs related to digital and sensory technology, entrepreneurial support, experience design, film production and immersive media.
ASU's collaboration on the MIX Center with DPR Construction, Holly Street Studio and Bohlin Cywinski Jackson helped produce a high-end academic filmmaking and media production facility in downtown Mesa.
Building highlights include: 
High-resolution screen on the building's exterior faces a large plaza for community events.
High-tech sound-recording studios, control rooms, display areas, editing rooms, classrooms and office-support spaces.
Large program areas include an enhanced-immersion studio, four sound stages, a 280-seat screening theater and an 80-seat screening room. 
The November 2022 issue of ENR Southwest will detail all winning projects; winners will be honored during a Phoenix event Nov. 3. 
Learn more about ASU's construction projects and follow Facilities Development and Management on Twitter.