Volunteer In Police Service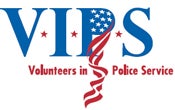 Volunteer Program
The ASU Volunteer in Police Service (VIPS) program offers civilians opportunities to not only aid the department, but to also serve the ASU community. VIPS is a national program, but is an emerging program within the ASU Police Department. Many opportunities for volunteering in most areas of the department are currently available at all four campuses. More job descriptions are being developed. The hours and time commitment are flexible.
Examples of some of the available positions
Bike Assistant
Newsletter Editor
Court Liaison
Photographer
Crime Prevention
Records Clerk
Display Case Manager
Special Projects
Fleet Supply
Station Administrative Assistant
Grant Writer
Tour Guide for Tempe Campus Department Building
Lobby Desk Assistant
All volunteers will require a background check and a polygraph. Please read the application carefully before filling it out.
Please mail your completed application to:
Arizona State University
Police Department Volunteers
PO Box 871812
Tempe, AZ 85287-1812
Contact Information: asupdvolunteers@asu.edu