Ink and toner cartridges of any size, color or brand.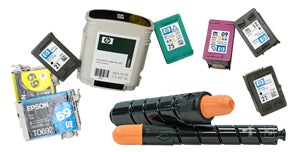 How to recycle:
For Staff and faculty:
Blue Bag: Small cartridges may be placed inside a blue bag. Submit a request to schedule a pick up of a full bag. Please use Campus Mail for large cartridges.
Campus Mail: These items can be sent to ASU Mail Services by placing them in original packaging, a plastic bag or interdepartmental envelope, labeling it ink or toner and placing it in or near a campus mail bin.